Munch, Munch, Munch:
Coastside firms interrupt bugs' lunch

by Joe Devlin and Emily Berk
This piece was originally published in Coastviews, October 2002 issue.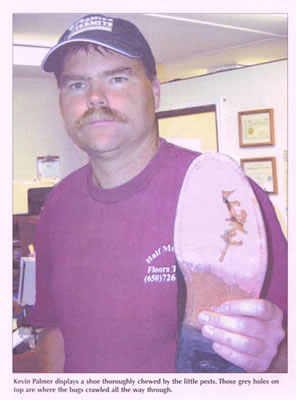 Kevin Palmer displays a shoe thoroughly chewed by the little pests. Those grey holes on top are where the bugs crawled all the way through.

The cool, damp Coastside is perfect for termites. According to Kevin Palmer, owner of Premier Termite of Half Moon Bay, "About 3 percent of the houses in Foster City have termites. Whereas, I suspect, 80 percent of houses in Montara are infested. El Granada's a little better— only 75 percent and Half Moon Bay is better yet, only 60 percent. You can choose your neighborhood based upon your infestation preference. Montara has powderpost beetles and drywood termites. Half Moon Bay has drywood and subterranean termites."

How bad is the problem? Kevin Palmer has a case of memorabilia collected in his long years of fighting pests. There's a collection of books: "The owner worried that she had a few insects," he laughs. "Yeah right. The termites were so numerous that they no longer fit into the walls so they swarmed into the books. The covers of the books looked fine. But most of the pages of every book were pulp. Our favorite keepsake is these shoes. Subterranean termites crawled through a hairline crack in the concrete floor and through the bottom of the shoes. The homeowner discovered the problem when he put his foot in the shoes and felt something crunch."

We live in one of the termite centers of the United States
"Termites are a big problem in two places in the United States: along the Gulf of Mexico (Florida and Louisiana) and the San Francisco Bay Area," according to Steve Iacopi of Coastside Termite. "If you live in this area, chances are you have termites. The wood used in your house sat on the ground until the carpenter turned it into floor struts, roof joists and walls. Chances are that that wood picked up something while it was sitting on the ground. It will take time before that something develops into a problem— 5 years, 10 or 20 years. If you live on the coast, sooner or later you will have to do something about it. Do it at the right time and it won't be that expensive. Let it go too long and it can get costly."

The good news
"The statistics sound worst than they are," says Palmer. "If you live in Florida or Hawaii, termites can destroy your house quickly. In our area, most of our houses shelter wood-destroying organisms, but we can prevent them from doing permanent damage."
Coastside native Grant Walters, a realtor with Coldwell Banker, urges his buyers to have their properties inspected: "Termite inspections are not required when you buy a house, but skipping them could be a very big mistake." According to Palmer, most companies charge $150 to inspect a condo. Inspecting a large house will cost $125 to $200. "A careful inspection every two years or so will do unless you live deep in the woods in some place like La Honda."

Don't drive yourself crazy
Although termites resemble ants in their behavior and body structure, they are actually closely related to cockroaches. And, they've lived with and near people for years. Fossil evidence proves that termites were a primary food source for primitive hominids. We may have to share our Coastside environment with termites, but we can prevent them from eating us out of house and home. There are techniques for making our wood less appetizing to these pests. "You can drive yourself crazy trying to pest-proof your house around here," warns Palmer. "Just accept the fact that we live in an area in which the pests have ample means of reaching your house, assume they have arrived, take preventative measures if you can, and if they don't work, remove them forcibly."

We in California host three types of termites:

* Dampwood termites are mostly found only in California and the Pacific Northwest. Dampwood termites need very moist wood.
* Drywood termites tolerate even very dry conditions.
* Subterranean termites live and multiply very, very rapidly underground.

Whole-structure treatments
Different types of termites are controlled differently. Drywood termites are usually controlled by treating the entire structure. Fumigating, filling a house with poisonous gas, gives most homeowners the willies. But Kevin Palmer is convinced that tenting is safe. "Local chemical treatments always leave residual chemicals behind. Vicane, the colorless gas used in fumigation, leaves no residue once the house is properly vented." Vicane will kill pets and plants, spoil food and taint medicine, so you do have to remove these before tenting.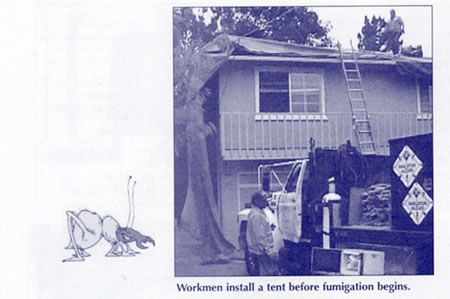 Workmen install a tent before fumigation begins.

"Alternatives to fumigation include: electroshock, local chemical treatments, heat, microwaves and, I swear, one company will shake chicken bones over your house," says Palmer. "In our experience, none of the other approaches works well. And there are side effects. When you heat an entire house to 200 plus degrees, you cook termites. But, hard wood floors shrink, wallpaper falls off walls and paint peels."

Localized treatments
Because subterranean and dampwood termites live far underground, they are best controlled with insecticides or baiting programs that are applied selectively. To control dampwood termites, you have to get rid of the moisture source and the damaged wood. Subterranean termites are controlled with a chemical treatment in the infested areas or around the house.
While confronting the reality of termites in our midst can make one's skin crawl, and none of these treatments is permanent and the process can be expensive and frankly, unpleasant, the alternative can be dangerous structural damage and an unsellable home. So, get your home inspected regularly. And, if you do find a problem, who ya gonna call?

Coastside Termite
650-726-6757
Premier Termite & Construction
650-726 7756

Joe Devlin and Emily Berk live and work in a newly-termite-free (knock wood) Coastside home and are actively seeking challenging new projects. Check out their website at http://www.armadillosoft.com.