by Joe Devlin
This piece was originally published in Coastviews, December, 1999 issue.

Many Coastside children and their families frequent Moss Beach Community Park, a park that is barely surviving on the sweat and generosity of the residents of Moss Beach The few professionally designed play structures at Moss Beach Park appear to be old as Methuselah. The larger of the two big slides is as old and as sturdy as a Model T (albeit more colorful). It's VERY tall. Any mother who sees it must shudder at the thought of her child scaling its heights. Of course, kids love the danger of the thing. Other permanent structures include a stack of four enormous brightly-colored tires, a jungle-gym in the shape of a steel fish and a swing set.

Luckily, few kids play on these permanent structures. Instead, they swarm over the dozens and dozens of plastic play structures that obviously once lived in individual backyards. At least once a month someone carts in another much-loved plastic slide, playhouse or toy oven that their sons and daughters have out-grown. Just as often, one of the park's volunteers culls through the stuff anti carts away the donations that have seen much better days.

On a recent Saturday, the park included two large boats and an earth mover, each of which holds several kids, six toddler slides, a plastic playhouse, a castle anti a selection of party kitchens all arranged together by some toddler Martha Stewart. There is also a mixture of rocking horses, riding cars, and an accumulation of trucks and cars in various states of disrepair. For bigger kids there is a basketball court with two baskets placed side by side.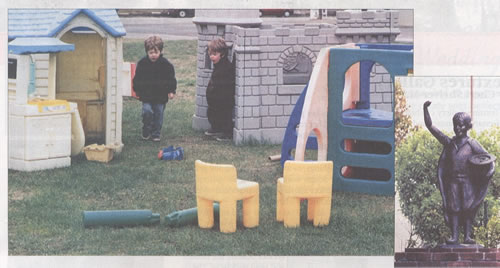 A lovely bronze statue of a little boy in a magician's top hat with a cape thrown jauntily over his shoulder watches over the children at play. The statue is a loving memorial to a child who drowned a few years ago on one of our beaches. At his feet are hand-formed tiles donated by friends and famiily and decorated with hand prints and whimsical creatures made of Lego blocks and other flotsam and jetsam

Parents sit at dilapidated picnic tables scattered across the park to watch their kids play. 'Those parents have mixed feelings about being there. Everyone knows that this old park poses its dangers. One mother we talked to pointed out the broken trucks and the pieces of toys scattered all across the sand. "My kid just sees it as a fun place to come. And with all this stuff, it is fun. It just takes some careful watching to make sure he stays away from the things that get broken."
The community is working hard to make the park safer. Community members have organized themselves into a group called the Coastsidc Preservation League. Currently lead by Chris and Todd Bazzill, the league works to mobilize the community to maintain the park for our children The Bazzills oversee the volunteers who devote time and energy to sorting out broken sand toys, removing litter, replacing old swings, and re -painting. When money is available, they tackle larger projects. For example, the group recently received a grant for removal of the old Model T slide. A fundraiser by the Coastside Mothers' Club raised more than $1600 that will go to installation of some new equipment and a trash bin and recycle bin that will withstand the onslaughts of raccoons. Several parents expressed appreciation for the new seats and chains recently installed on the swing set.

On the other hand, the kids who use the park hope it won't become too safe. One thoughtful 13-year old we talked with said. ' Kids love this park because it is new and different every time they come. You can find safe tube slides in half of the McDonalds in America. They all look the same. This park is dynamic and exotic. New things show up all the time and old ones disappear. And all the smaller structures are constantly moving. I watched a kid the other day ask her dad to pick up the castle and move it over to where the fish climber is. Then she wanted a toddler slide in the castle. Yes. 1 know the parents have to watch closely because they worry about the condition of some of this stuff. But the end result is that they are helping their kids interact with a constantly changing landscape. That has got to be more interesting than sliding down the same perfectly designed slide for the umpteenth time.'
She is right. The Moss Beach Par] has its dangers and imperfections, but it also dynamic and alive in a way that professionally maintained parks can't be. Go play with your kids there today. (It's at the corner of Virginia and Etheldore in Moss Beach, about a block east of Highway 1.) And then, stuff few dollars into the little park donation box to help keep it safe. Or better yet, give the Bazzills' a call and donate some time.