Manufacturers are hot for supply-chain management (SCM). How hot are they? The numbers are simply astonishing; Ninety-seven percent of the manufacturing and distribution executives surveyed in a recent Forrester Research study consider effective and efficient SCM to be critical to their companies long-term success.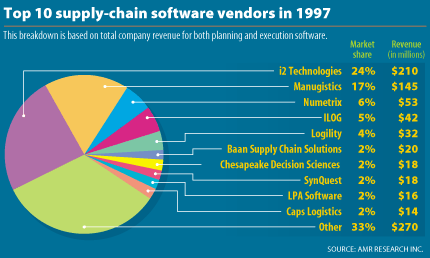 However, only 14 percent of those surveyed have a supply-chain optimization system in place. Not surprisingly, 53 percent intend to have a system in place within two years and are willing to pay for it. What are these systems that everybody wants but few have?

--------------------------------
A revolution is happening throughout the supply chain that connects retailers, distributors, manufacturers, and raw-materials suppliers-a revolution in the way manufacturers interact with partners, suppliers, and customers.
While most routine interactions in the manufacturing space still involve phone, fax, or e-mail, these options are being replaced with electronic data interchange (EDI) and Internet commerce.
The first round fired in the supply-chain revolution came when companies like SAP, Oracle, Baan and DataWorks introduced enterprise resource planning (ERP). ERP systems track inventory as products move from materials to manufacturing to inventory to distribution.
The revolution continued when SCM applications from vendors like Manugistics (Rockville, MD) and i2 (Irving, TX) took ERP to the next level. Besides tracking inventory, SCM performs more complex analysis of data, allowing companies to predict demand and adjust materials orders and production schedules accordingly.
Say a customer orders a larger supply of blue widgets than usual. SCM software not only tells the customer when it will be delivered but also notifies manufacturing to ramp up production for a few days and queries raw-materials suppliers to determine how to best satisfy the demand.
Today big players like SAP and Oracle are opening their APIs to packaged-application vendors like Manugistics, i2, and Agile Software (San Jose) while rushing their own packaged SCM solutions to market. Midtier ERP vendors like DataWorks (San Diego) are reaching out to new vertical- solutions partners that can sell solutions to new classes of customers. The midtier players also are moving down the chain by offering small, inexpensive ERP systems based on Microsoft's Small Business Server. Everyone in this market is struggling to make use of the Internet, thin graphical interfaces, and tools for increased collaboration.
Extending Chain With Collaboration
Continued growth in the SCM arena depends on SCM software's ability to accommodate larger groups-including suppliers and customers. This collaborative-planning concept started when some big companies - Wal-Mart, Warner Lambert, and Ford-required their suppliers to feed them data via private EDI systems. Those first few trials proved wildly successful. When word got out, a stampede began. Companies large and small began to look for ways to open up better lines of communication.
The true advantage of SCM lies in effective management of the entire supply chain-from raw-materials suppliers through to the end consumer,proclaims Paul Strzelec, Internet business manager at Manugistics. "Technology is no longer the biggest hurdle-improving business practices and organizational structures and setting up a culture that encourages safe coordination and collaboration are. What information do I want to share, with whom do I share it, and with what frequency do I release that information? We're spending a lot of time helping customers work out these kinds of details."
Richard Barnett, director of the high-tech industries group at i2, agrees. "It's an evolutionary process. We provide manufacturers with technology that allows them to share information in new ways. That leads to concern that information handed out to partners will be reverse-engineered-to provide manufacturers with unfair insight into the capacity of their suppliers or to provide suppliers with the true demand of the manufacturer. We need to move beyond those worries and come up with new paradigms that allow partners to coordinate their efforts in order to respond more quickly to highly volatile market conditions."
ERP AND SCM SOFTWARE FORECASTS

Total company revenue ($ billions)

Growth rate

1996

1997

2002

1996-1997

1997-2002

ERP

$7.5

$10.6

$50.5

41%

37%

SCM

$1.1

$1.6

$12.1

53%

50%

Source: Advanced Manufacturing Research
The Feta Cheese Strategy
"Setting up a good supply-chain system takes deep industry understanding", warns Judy Sweeney, director of business relations at leading ERP-solution provider Marcam Solutions (Newton, MA). "We're just now beginning to understand the complexity of the measurements we take and the relationships between those items. In the past, a lot of these supply-chain systems have not looked at interdependencies. We are getting to the point that we can."
A case in point is the feta cheese problem experienced by one of Sweeney's retailers. "Most supply-chain models tell him that he should dump feta cheese from his line because other products produce more profit from the same shelf space. What these models don't take into account is that feta cheese customers purchase more than $100 in groceries per week. Dump feta cheese and you lose those customers."
Without industry knowledge, the model is incomplete. SCM solutions require deep trust among the partners involved with the collaborative planning network. Feta cheese models are considered competitive secrets, and retailers are not going to share them with suppliers or customers easily, adds Sweeney.
A combination of integration skills and industry knowledge are prerequisites for entering the SCM arena. And while integrators can't ensure trust among supply-chain partners, knowledge of the products and the process options will go a long way toward gaining a customer's trust.
Joe Devlin is a partner in Armadillo Associates Inc., a solutions integrator headquartered in Half Moon Bay, CA. He can be reached at Joe@armadillosoft.com.