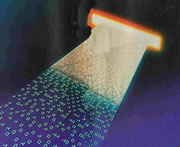 Banks and billers face a muddled environment of electronic and paper-based processes. The latest technology merges mixed payments and streamlines conventional transactions.
GAUGING EBPP
Most estimates show low penetration of electronic billing in both the business-to-business (B2B) and business-to-consumer (B2C) sectors. Zona Research, Redwood City, CA, offers the following positive notes.
High-volume billers (more than 200,000 monthly bills) comprise 70 percent to 80 percent of the U.S. market.
Perhaps one-quarter of all high-volume billers now offer some sort of electronic billing, and many of those that don't plan to do so in the next 24 months.
On average, billers now receive about 12 percent to 18 percent of their payments electronically.
Of approximately 30 billion recurring electronic billing transactions each year, slightly less than half are for business-to-business transactions, despite B2B's much greater market size and complexity.
By a sizeable margin, current electronic billers prefer to keep in-house control of their bill processes rather than outsourcing to a third-party vendor.
Source: "Buy Now, Pay Now: Internet-Enabled Billing comes of Age", Zona Research, March 2001.