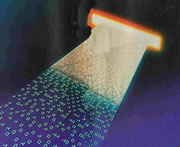 Banks and billers face a muddled environment of electronic and paper-based processes. The latest technology merges mixed payments and streamlines conventional transactions.
Coping With Mixed Payments
EBPP will eventually provide a huge leap in efficiency-over traditional remittance processing. But online payment vendors are a long way from providing direct electronic links to every payee. Even the largest online payment brokers still send out many paper checks. CheckFree, the 100 pound gorilla on on-line payments, estimates that 40 percent of its payments are made on paper. This mixture of paper and electronic payments can create real headaches for lockbox operations and remittance processing vendors.

"The problem is that the paper stubs shipped out by online payment brokers don't look anything like stubs shipped out with the original paper bills," notes Jeff Vetterick, vice president of marketing at Advanced Financial Solutions (AFS), Oklahoma City, OK, a major remittance processing technology provider.

It wouldn't be so bad if each check was applied to a single bill and was accompanied by a single stub in a machine-readable format. "But it's not realistic to expect the CheckFrees of the world to send out 10,000 separate checks to any one payee each month," says Vetterick.

Instead, online payment consolidators cut postage and processing costs by batching payments; a single check arrives along with a list of all transactions covered by that check. These lists almost always need to be keyed in manually. From the remittance processor's perspective, it's a nightmare.

"The problem is compounded by the fact that every online payment consolidator uses a different format for the payment list - typically formatted on 8-1/2-by-11 sheets of paper or on long sheets of greenbar," says Vetterick. "None of this stuff can be handled normally through the usual reader/sorters and other tyes of high-speed transports. Unless new processes can be put into place, all of it gets handled as an exception."

Advanced Financial Solutions solves this problem by handing it over to a module they dub "DREAM" (Dynamic Reject Auto-Correction Module). The software was originally designed to automate MICR (magnetic ink character recognition) rejects. The software uses ICR (intelligent character recognition) technology to take a second look at the MICR line at the bottom of checks that could not be recognized magnetically. AFS's Scott Image Associates unit, in Sanford, NC, has tested the software and reports that it automated as much as 80 percent of previously rejected items.

AFS customers are now using this software to handle checks and lists coming from online payment brokers, including CheckFree. "It's a little different workstream," notes Vetterick. "Since DREAM can automatically read the MICR line off the check, both the check-and-list can be scanned on the same scanner at the same time, maintaining transactional integrity."

According to Vetterick, "it's 20 times more efficient" to handle both at the same time than to separate the paper paths and put them together later on.

Wausau Financial Systems, a payment automation systems provider in Mosinee, WI, has addressed the electronic payment check-and-list problem by adding full-page OCR (optical character recognition) to its ImageRPS remittance processing solution. The upgrade also addresses money orders, travelers checks and other items that usually demand manual keying. "The recognition software enhancements provided with ImageRPS will transform how exception item data gets captured in a remittance environment," says Mike Tallitsch, Wausau's product manager for remittance processing. "From multi-page, check-and-list transactions to money orders from a convenience store or any other provider, [exception items are] now easily automated for significant labor savings."