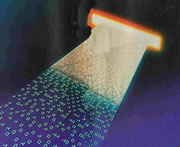 Banks and billers face a muddled environment of electronic and paper-based processes. The latest technology merges mixed payments and streamlines conventional transactions.
Streamlining Conventional Payments
Of course, as so many bills are still paid by checks and remittances, technology providers are competing to drive down costs with improvements in automation equipment and software.
BancTec, Irving, TX, for one, recently introduced a higher-speed check/remittance transport. Priced starting at $230,000, the company's new high-volume E-Series transport is available with optional speeds of 1,200, 1,400 or 1,600 documents per minute and is intended for mid- to high-volume processing environments handling 100,000 or more transactions per day.
Meanwhile, BancTec's mid-tier E-Series transport, which processes 550, 800 or 1,150 documents per minute, will be supported by new software with standard grayscale support, improved image thresholding, optimized JPEG compression and an ability to capture up to eight image zones per side.
"We're focusing on taking image quality to the next level to improve read rates," says Dave Conklin, vice president of sales and marketing for BancTec's business partner solutions. "New image compression technologies such as DjVu and JPEG2000 will make color and grayscale imaging much more affordable. We're moving image compression to software to protect the buyer's longterm investment in this equipment."
High-volume check imaging demands significant storage investments, but better compression will make the most of storage while also delivering better images that yield higher accuracy rates and fewer manually processed exception items.
To support mixed paper-based and electronic payment environments, BancTec last year introduced its PayCourier solutions, which provide a common database for both types of transactions as well as Web-enabled lockbox capabilities for electronic payments. Web-based search and query s provide access to images and data from anywhere so that customer service and customer self service initiatives can be supported.