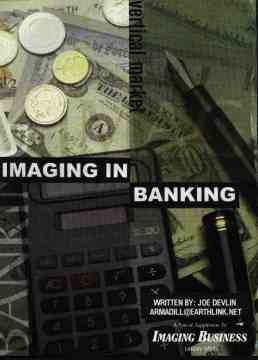 John Persinos, Publisher
Competitive pressures are forcing banks to improve their services and cut costs like never before. Compelled to boost productivity and reduce overhead, many banks are turning to imaging solutions to get ahead. This supplement shows you how to tap this lucrative vertical market.
Technological and industry trends favor VARs who enter the banking arena. Banking technology is shifting from hardware to software, and from physical storage to electronic, centralized image archives of key documents, and streamlined cash management. imaging software is also helping beef up customer service and forge new fee-based service. Consolidation and competition in the banking market are only accelerating these changes, and creating opportunities for VARs.
This supplement was written by Joe Devlin, a savvy imaging veteran who has written extensively about the channel and the financial industry. Joe points out numerous profit opportunities for VARs, and how they can generate sales leads. He also shows how to stay on top of technological advances, work smoothly with vendors, and ensure examples of successful, VAR-driven bank imaging installations.
Banks are pouring enormous resources into infrastructures that deliver real time, value-added services consumer-centric" approach is also the bread and-butter of VARs, which makes the imaging channel and the banking market a good match indeed.